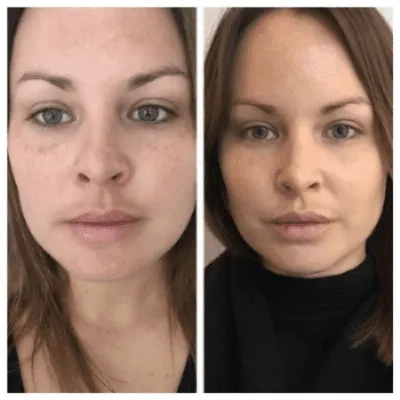 Getting a Clear Complexion with SkinCeuticals Advanced Corrective Peel
Skin discoloration and texture unevenness is a natural part of aging. Multiple factors contribute to this aging process, most importantly, years of sun-exposure. A medical grade chemical peel is a great way to un-do some of these signs of aging. The SkinCeuticals Advanced Corrective peel is a medical grade chemical peel that can be administered in a physician's office only.
How does the SkinCeuticals Peel Work?
The SkinCeuticals Advanced Corrective peel contains a proprietary blend of clinical-grade acids to maximize peeling and restore radiance to the skin. The SkinCeuticals Advanced Corrective peel contains:
-Phenylethyl Resorcinol which reduced the appearance of discoloration and improves skin tone
-Salicylic Acid, a beta-hydroxy acid that improves the signs of discoloration and photodamage while helping to reduce the appearance of acne
-Lactic Acid, an alpha-hydroxy acid that exfoliate skin's surface for improved radiance
The benefits to the SkinCeuticals Advanced Corrective peel are immediate and lasting if the appropriate post-peel regimen is maintained. Also, the SkinCeuticals Advanced Corrective peel is a great option for people who suffer from acne breakout because it helps minimize the frequency of acne breakouts and treats the post-lesion discoloration left by past breakouts.
What's the difference between a Chemical Peel and a Laser treatment?
Chemical peels use a series of ingredients to remove the pigmentation of the skin, but also contain ingredients to prevent future pigmentation. Laser treatments simply remove the pigmentation that you have, which is why the results are often short-lived. Chemical peels remove pigmentation and help prevent the pigmentation from coming back. Chemical peels tend to be safer for all ethnic backgrounds- Asian, Black, Latino, and Indian; whereas, people of color need to avoid laser and light treatments because laser and light treatments can cause permanent darkening of the skin in people of color.
How Do I Maintain the Results of a SkinCeuticals Advanced Corrective peel?
Depending on your skin-type and needs, your doctor may recommend different post-care complexion regimens. Almost all people with benefit from an ant-oxidants after the SkinCeuticals Advanced Corrective. Anti-oxidants are vitamins such as Vitamin C & E that neutralize free radicals that are released from UV-rays, pollution, or other sources. Anti-oxidant skin oils create a protective barrier between the skin and the world. You will find that the longer you use an anti-oxidant on your face, you won't burn as easily, sun exposure will not stimulate brown spots.
What Should I do prior to the SkinCeuticals Advanced Corrective peel?
You may need to stop certain medications and supplements if they cause you to bleed more easily. For example, Aspirin, Ibuprofen, Advil, Aleve, and other pain-killer medications in the NSAID family should be avoided for 5 days before your chemical peel. Also, certain supplements such as Fish Oil, Vitamin E, Gingko, Ginseng, and Garlic can cause more bleeding and bruising so you would want to stop these 5 days before your chemical peel. If you have been prescribed a blood thinner by a doctor for prevention or treatment of heart attack, stroke, TIAs, heart valves, or another medical condition DO NOT stop your medication without talking to the prescribing doctor. If you have a history of cold sores, then you should get a prescription for an antiviral medication to take after you have had the chemical peel. It's best to avoid intense sun, wind, and cold- exposure for a week after the procedure- so plan the chemical peel during a time that you can stay inside away from the elements for 1-2weeks.