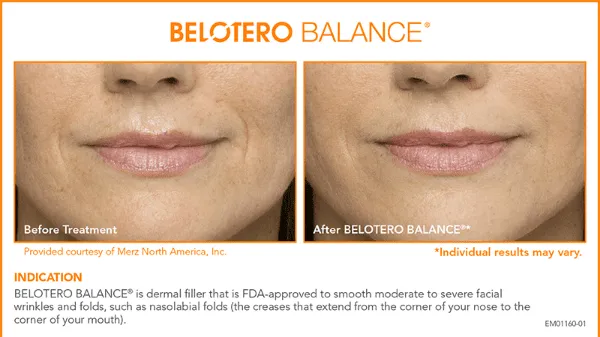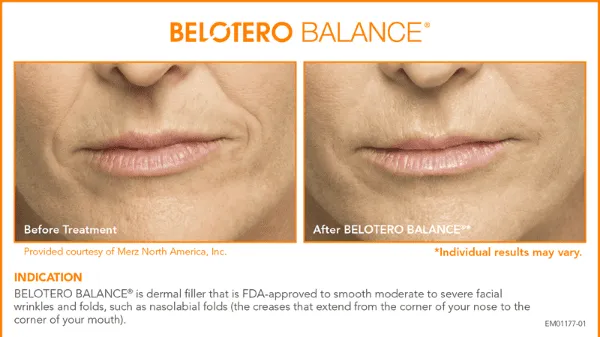 What is Belotero?
Belotero is dermal filler that is made of hyaluronic acid. The main advantage of Belotero is that it can be injected very close to the surface of the skin. This allows the physician to correct fine lines and wrinkles is areas where the skin is thin like near the eyes and lips.
What Areas Can Belotero Treat?
Belotero is quite versatile and can be used to treat almost every part of your face. Some of the key areas include:
Frown lines and the creases that are between your eyebrows
Crow's feet, fine lines and other per orbital lines around your eyes
Cheekbones
Bumps and lines along the nose
Smile lines around your mouth and nose
Thin lips
Marionette lines which run from the corners of the lip to the jaw.
Vermillion border
Loose or sagging skin under the eyes
Horizontal lines on your forehead
What Can I Expect from Belotero Treatment?
Belotero is a thin and delicate filler so it allows for correction of crepey skin near the eyes and lips. Often Belotero can be layered on top of deeper fillers to perfect the surface of the skin.
What should I do before my Belotero injection?
To minimize bruising, we advise that you stop all blood thinners at least 5-days before your treatment. Do NOT stop a blood thinner is you have been directed by a physician to take a blood thinner after having had a stroke, heart attack, pulmonary embolism, or if you have an irregular heartbeat or artificial heart valves. Also, please stop over the counter pain medication and supplements that thin the blood. Pain medications to stop include Ibuprofen, Aleve, Advil, Aspirin, Midol, etc. Nutritional supplements to stop include Vitamin E, Fish-oil, Gingko, Garlic, and Ginseng. You may resume these medications and supplements 2 days after the procedure.
How is Belotero Administered?
The process is safe and relatively painless. Most patients can return to work immediately after their treatment. You must come-in 30-45 minutes before your appointment to apply lidocaine cream. The lidocaine cream anesthetizes the skin so that the Belotero injections do not hurt. The Belotero is injected into the skin with a fine needle and the results are immediate.
How Long Will the Belotero Treatment Results Last?
In most cases, Belotero results can last for up to 6 months. However, this will vary depending on the patient and the specific areas that are being treated.
What is the Difference between Belotero and Other Wrinkle Fillers?
Belotero dermal filler is the only filler than can be injected into the superficial dermis (top of the second layer of skin). This makes it ideal for people with crepey lines near the eyes and lips. Belotero can also be layered on top of thicker fillers to give the finishing touches to maximize youthful appearance.
What is the Recovery Time after Belotero?
Surprisingly, there is no recovery time required. You can resume your routine tasks right after the Belotero injections. You may experience some slight discomfort after the injection, but this will alleviate within a couple of days.
Is Belotero Treatment Safe?
Belotero is FDA-approved for the treatment of fine lines and wrinkles. It has almost no side effects and it can be dissolved if you have a bad reaction to it. Also, Belotero dissolves on its own over time.
Benefits of Belotero
One of the key benefits is the fact that Belotero can be injected close to the surface of the skin without creating nodules or imperfections in the skin. However, it is advisable to talk to your physician about what you want to achieve. Belotero cannot fill deep lines and wrinkles. Since there are a number of fillers on the market, it is important to discuss your options with a medical physician. During the initial consultation, you will be given an explanation as to what happens to the face as we age and the opportunity to view before and after photos. You will need to discuss with your physician if Belotero is the correct corrective option for you.